Communication and collaboration are central to today's networks – providing the framework for information (data) to flow to all the places it needs to go. Data is an expansive term today, encompassing digital packets that carry voices from one point to the next, files or applications, or…well, the list goes on. And just like that list, networks need to keep going, requiring security, integrity, speed, and capacity to get the job done while providing a quality user experience. It's a lot of work, and you're up to the task, and the opportunity.
Networks Overview at a Glance
Infrastructure
Traditionally, infrastructure was limited to solid things - buildings, cabling, servers, computers, phones, and monitors - but today it also encompasses the virtual; with Cloud approaches, Datacenters (including Colocation), and Contact Centers empowering organizations to achieve more while being increasingly efficient.
Connection
Without a connection, each point in a network (people, buildings, and equipment) is a solitary and isolated island itself. Of course, this is a modern world with many ways to get to that island, and the best strategy is to have many connection options in place to ensure uptime and optimal experience for all tasks.
Software/Applications
Microsoft teams. Slack. Salesforce. Zoom. The software and applications organizations work with are housed directly on the desktop or in the Cloud, plus the many unseen processes running in the background to keep the network running safe, fast, and secure – like VPNs, firewalls, cybersecurity, and password assistants.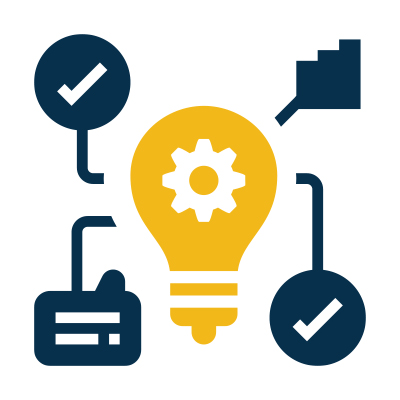 Protocols, Management, Oversight
IT departments work hard, assisted by the many solutions and processes put in place to watch the network, so they don't have to – virtual gauges and warning lights with tolerances set to notify when, or hopefully before, there is an issue. Many of these tasks today are looked after by a Managed Services Provider.
Webinar: "Connectivity, We've Come a Long Way From Dad's Copper Wire". Join Sales Engineers Gerry Davis and Andrew Rustad as they look at the many possibilities, capabilities, and opportunities available with today's Data and Voice Networks. From the initial connection formula through solutions like SD-WAN to the advantages of incorporating MSP (Managed Services Provider) solutions.
WATCH ON DEMAND
The Data, Technology, and Protocols That Power Organizations. Get ready to gain a baseline, a fundamental understanding of types of IT connections, the infrastructure they bring to life, and all the "background" solutions that help keep Data and Voice Networks fast, secure, and a central tool for business success.
READ BLOG
Promote Network and Voice to Your Customers
Sandler Partners have access to customizable Network and Voice Data campaigns in the Marketing Center – both co-branded solution specific, and agnostic category deliverables that put your brand front and center! Located in the Sandler Portal, the Marketing Center lets Partners create strategically targeted campaigns with collateral, emails, social posts, and microsites that can be updated, sent, and tracked from within the center! What a great way to be positioned for category thought leadership in the minds of the ones who count – existing and potential customers.
Learn More
Providers Give You Options, and Capability, For Network and Voice
Astound Business Solutions provides IT leaders with high-capacity, secure connectivity to mission-critical applications while increasing overall agility and responsiveness to customer needs. As a national telecommunications provider, they offer advanced solutions that are delivered over a diverse, carrier-grade network that they own and maintain, providing the speed, bandwidth, and reliability businesses need to support growing data demands. They also maintain a local, customer-centric approach, with dedicated industry experts on-hand around the clock.
Colt provides world-class global network and voice services: optical, ethernet, cloud, cybersecurity, capital markets, business internet & VPN, and voice. They are a global network connectivity and Cloud computing Provider spanning over 210 cities in more than 30 countries across Europe, Asia and North America, with over 29,000 on-net buildings and counting. Colt is an innovator in Software Defined Networks (SDN) and Network Function Virtualization (NFV) services, and connects over 900 datacenters worldwide.
Comcast is one of the nation's largest Providers of video, high-speed Internet, voice, phone and enterprise solutions to residential and business customers. Comcast also provides a suite of Managed and Professional Services that reduce the complexity of enterprise networks while increasing performance by targeting key metrics like bandwidth, uptime, QoS and incident response times allowing organizations additional opportunities to innovate.
Granite is a leading service provider for multi-location businesses in the US and Canada. Granite brings stability to both end-users and partners, helping more than 2/3rds of the Fortune 100 with their voice and data requirements. Granite's core products include POTS, Epik (wireless POTS replacement), SIP, 7 different SD-WAN platform, Mobility and IoT, Managed Services (SD-WAN, switches, firewalls, AP's, circuits).
Lumen is the second largest U.S. communications provider to global enterprise customers. With customers in more than 60 countries and an intense focus on the customer experience, Lumen strives to be the world's best networking company by solving customers' increased demand for reliable and secure connections. The company provides broadband, voice, video, data and managed services over a robust 250,000-route-mile U.S. fiber network and a 300,000-route-mile international transport network.
Spectrum delivers reliable Internet, Ethernet, Phone and Enhancement solutions with widespread cable and fiber footprint in specific geographic areas. Expanding into new territories with the acquisition of Time Warner Cable Business Class and Bright House Networks, Spectrum offers competitive pricing, quick installs, and high bandwidth at a low price in their on-net regions. They offer a wide range of products — from high-quality broadband services to phone systems and top-tier digital TV and Music, that are flexible and can meet the demands of growing businesses.
Sangoma delivers Communications as a Service (CaaS) solutions for businesses of all sizes. They supply SMBs, enterprises, service providers, and OEMs with a product portfolio of multiple CaaS centric product lines. Offering both cloud and on-premise UC solutions, Sangoma can operate as a trusted advisor to their customers, providing them the communications solution that is best suited for their needs. And while Sangoma still supplies hardware to the VoIP industry, it has pivoted to be more of a software and services company.
Zayo provides Communications Infrastructure services, including fiber and bandwidth connectivity, colocation and cloud services to the world's leading businesses. Customers include wireless and wireline carriers, media and content companies and finance, healthcare and other large enterprises. Zayo's 127,000-mile network in North America and Europe, includes extensive metro connectivity to thousands of buildings and data centers. Zayo offers colocation and cloud infrastructure in its carrier-neutral data centers. Zayo provides clients with flexible, customized solutions and self-service through Tranzact, an innovative online platform for managing and purchasing bandwidth and services. In July 2012, Zayo acquired AboveNet.
Sandler Partners have access to the full portfolio of 106+ Data, Voice, and Network solution Providers — including leading providers DYOPATH, Epic IO, Fusion Connect, Nexogy, Ooma, PhoenixNAP, TPx, Verizon, Vonage, Windstream Enterprise, WiredIQ, and Zultys. You can review all your available options by using the Solutions Finder or Solutions Index tools located in the Sandler Portal. For help navigating your way through the process, while discovering the best provider(s) solutions available to meet your client's requirements, simply contact our Sales Engineering Team!
Let Us Answer Your Questions One-on-One